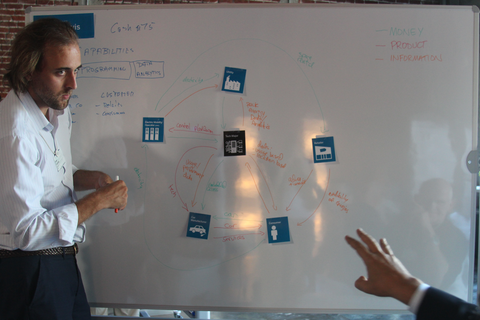 Here's a list of some upcoming talks I'll be doing around the U.S, on the heels of being on podcasts with Ash Thorp (The Collective) and Jason Fruy (My Creative Copilot). Hope to see you at one of them!
Friday, February 21st, 2014
"Design Is Hacking How We Learn"
California College of the Arts
San Francisco Campus
1111 Eighth Street
San Francisco, CA 94107-2247
7 PM in Timken Hall, reception at 6:30 PM
Free and open to the public
This is a new iteration of a talk that I started giving this past year. The abstract: The next big disruption in lifelong learning will be by design. We are innately trained and poised to have a global impact on how other people can survive and thrive, whether they are designers or not. In this talk, I'll point out opportunities for designers to participate in this disruption, sharing tools such as frog's Collective Action Toolkit, which has made the skills designers use more accessible and available for people worldwide. This is part of the Interaction Design faculty lecture series.
Wednesday, March 5, 2014
"Envisioning the Balance: The Dynamic Role of Design in Entrepreneurship"
Kansas City Design Week
Think Big Partners 6th floor event space
1800 Baltimore Ave
Kansas City, MO 64108
5:30-8 PM
$10 admission in advance, $15 on site, limited to 75 attendees
In this talk, I'll explore the expanding role of design in entrepreneurship, looking at emerging principles we can use to drive sustainable innovation, growth and beneficial cultural change within our startups, companies, nonprofits—or even within a group where no business may yet exist. Through this entertaining talk and Q&A, I'll uncover how different tools used by designers allows entrepreneurs to create valuable new products, services and business models with their customers and communities. And, most importantly, I'll examine the proper place and role of design in the lifecycle of your ventures, finding the right balance between design and other critical activities that lead to successful businesses in the long term. (You mean just design isn't enough? Yep.)
Monday, March 10, 2014
Workshop: "Expansion Through Ecosystems" with Diego Depetris, Patrick Kalaher, and Steve Selzer
South by Southwest Interactive Conference
AT&T Conference Center
Classroom 102
1900 University Ave
9:30 AM-1:30 PM
Advance registration and workshop signup required, attendance limited to 40
Ecosystems are critical when exploring new market opportunities, or seeking to expand or diversify an existing market. Value in an ecosystem is created not only by driving adoption for your products and services, but by driving demand and "coopetition" from the entire ecosystem. When parties in an ecosystem collaborate to expand the entire pie rather than just their slice, growth occurs faster and everyone benefits as a result. Ecosystem strategy helps you determine the options available to your business to make this growth happen. In the future, the ecosystems that you participate in become your business. Few companies will successfully operate in isolation. If you don't actively identify and plan for opportunities to shape that ecosystem, often in collaboration with others, you may fall behind. This collaborative 4-hour workshop will simulate the ever-changing nature of ecosystems as you work with others to stay viable in the marketplace.
Tuesday, May 13, 2014
Workshop: "Off the Page, Into the Wild: Designing for the Internet of Things"
HOW Design Live
Hynes Convention Center
900 Boylston Street
Boston, MA 02115
10:15 AM to 12:30 PM
Additional fee required for this workshop
Attend this session for a set of quick and dirty storytelling and prototyping methods for cross-screen and cross-device interactive design. Drawing from influences as varied as reality TV, automatic writing, artificial intelligence, and improv, I'll show you how to work individually and with multidisciplinary teams to: target unique user needs and tasks with a story-first approach; rapidly ideate around those needs and tasks using unique methods that range from text and photo prompts to prototyping with your phone's camera; capture, evaluate, and iterate on provisional artifacts and scenarios; understand when to shift from low-fidelity prototypes to full-on technology simulations and prototypes. This workshop draws from David's experience in teaching storytelling in user-experience design at California College of the Arts and in his ongoing work in exploratory research and design with cross-disciplinary teams at frog. You'll go home with a cheat sheet of storytelling methods and examples you can bring directly into your studio practice.
Thursday, May 15, 2014
"Creating Creative Superteams"
HOW Design Live
Hynes Convention Center
900 Boylston Street
Boston, MA 02115
4:30–5:30 PM
Presented as part of the HOW In-House Management Conference
You know when a team just clicks. Designers complete each other's sentences. Group brainstorms yield breakthrough ideas. Team members want critique frequently, and relish the feedback. Everyone feels invested in where your projects are headed. However, if you lead or work on a creative team, you may have experienced the opposite, from team members struggling to remain engaged in brainstorming sessions, or fighting for their interests in what's meant to be fruitful critique. In this session, you'll find out how you can encourage and empower creative teams, helping to improve their communication and collaboration skills along the way. The tools you'll learn from this session will help you: Lead brainstorming sessions that teams love to participate in; identify which team structures lead to maximum creativity and project ownership; expand your critique vocabulary, with five unique strategies to help your team open up when sharing work in progress; understand what conversational cues can lead to constructive dialogue, rather than creating competition; empower your team members to build off each other's skills and perspectives.
---